Pneumatic stop valve is used to open and close the pipeline medium through compressed air, the movement speed will be relatively fast, the choice of different materials and sealing, can be applied to various pressure, temperature and medium conditions, and reliable sealing, good performance. But due to the type of pneumatic shut-off valve is more, and the structure of the form is changeable, users in the choice of pneumatic stop valve, should be familiar with its type of expression method, in order to avoid the wrong type, exchange, return and other issues!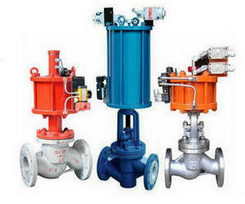 Pneumatic valve type preparation instructions from the cut-off valve type, drive mode, connection structure, sealing material, nominal pressure, the valve body material code that is mainly aimed at the existing pneumatic valve product model description, such as valve products made changes in material, structure, please according to the selection method for the preparation of the valve.

Pneumatic valve model establishment method:
Valve additional code: W said corrugated pipe, D said, B said the low temperature thermal insulation;
1) valve category code: J said stop valve;
2) valve drive mode: manual, gear, no code 5 6 pneumatic, electric 9;
3) valve connection: flange connection, welding 6 4;
4) valve structure in the form of: 1 straight and 2 type Z, 3 through three links, 4 angle type, 5 type Y, 6 type DC balance through, 7 balance, 8 angle type needle;
5) valve sealing material: F fluorine rubber, H stainless steel, N plastic, nylon Y hard alloy, Monel alloy, cast M direct machining of valve W;
6) valve nominal pressure: pressure is 1.6Mpa 16 said 16 kilograms of meaning, PN1.6-32mpa, IN150LB-1500LB, 5-63K;
安徽快37) the valve body material: A titanium alloy, C steel, I chrome molybdenum steel, P stainless steel 304, stainless steel R 316;
Examples of pneumatic stop valve type:
WJ641H - 16C pneumatic bellows stop valve
1, W: bellows
2, J: indicating stop valve;
3, 6: means the drive mode is pneumatic;
4, 4: the connection way is flange connection;
5 and 1: the structure is straight through channel;
6, H: sealing material stainless steel hard seal;
7, 16: nominal pressure is 1.6MPa;
8, C: the valve body material is carbon steel.